Cancer knows no borders
The International Cancer Proteogenome Consortium (ICPC), is a voluntary scientific organization that provides a forum for collaboration among some of the world's leading cancer and proteogenomic research centers.  Catalyzed by the effort of the Cancer MoonshotSM (White House Fact Sheet – Australia; White House Fact Sheet – United Nations Good Summit) to encourage international cooperation and investments among nations in cancer research and care, as well as new efforts in precision medicine, the International Cancer Proteogenome Consortium (ICPC) was launched in late 2016.  The ICPC brings together more than a dozen countries to study the application of proteogenomic analysis in predicting cancer treatment success and to share data and results with researchers worldwide, hastening progress for patients.
Proteogenomics: Evolving Cancer Research
A challenge in genomic sequencing is interpreting the vast number of genomic alterations that can be found in a tumor and determining which alterations can lead to disease development and progression.
Previous studies by the NCI Clinical Proteomic Tumor Analysis Consortium (CPTAC) have shown that genomic changes are not always present at the protein level, suggesting that the additional level of proteomic analysis can lead to enhanced understanding of tumor resistance and/or toxicity to therapy and one day offer the ability to predict treatment response by examining drug response or toxicity.  As a result, the ICPC teams believe that integrating genomic and proteomic data together can provide more information and insight into cancer's development and growth.
Global Approach to Data Sharing
As part of the Cancer MoonshotSM, it is hoped that these international partnerships will break down silos and allow scientists to work together and share information, with the goal of ending cancer as we know it.  This is to be achieved through the coordination of activities among countries and institutions that represent the great diversity of people and of cancers, by studying commonly diagnosed cancers in their unique populations.
The ICPC supports the public sharing of cancer‐associated proteogenomic data for use by cancer researchers and physicians around the world to accelerate the understanding of cancer and its translation to patient care (Data Sharing Pledge). Genomic, proteomic, and imaging data will be shared through NCI's Genomic Data Commons, CPTAC Proteomic Data Portal, and Cancer Imaging Archive.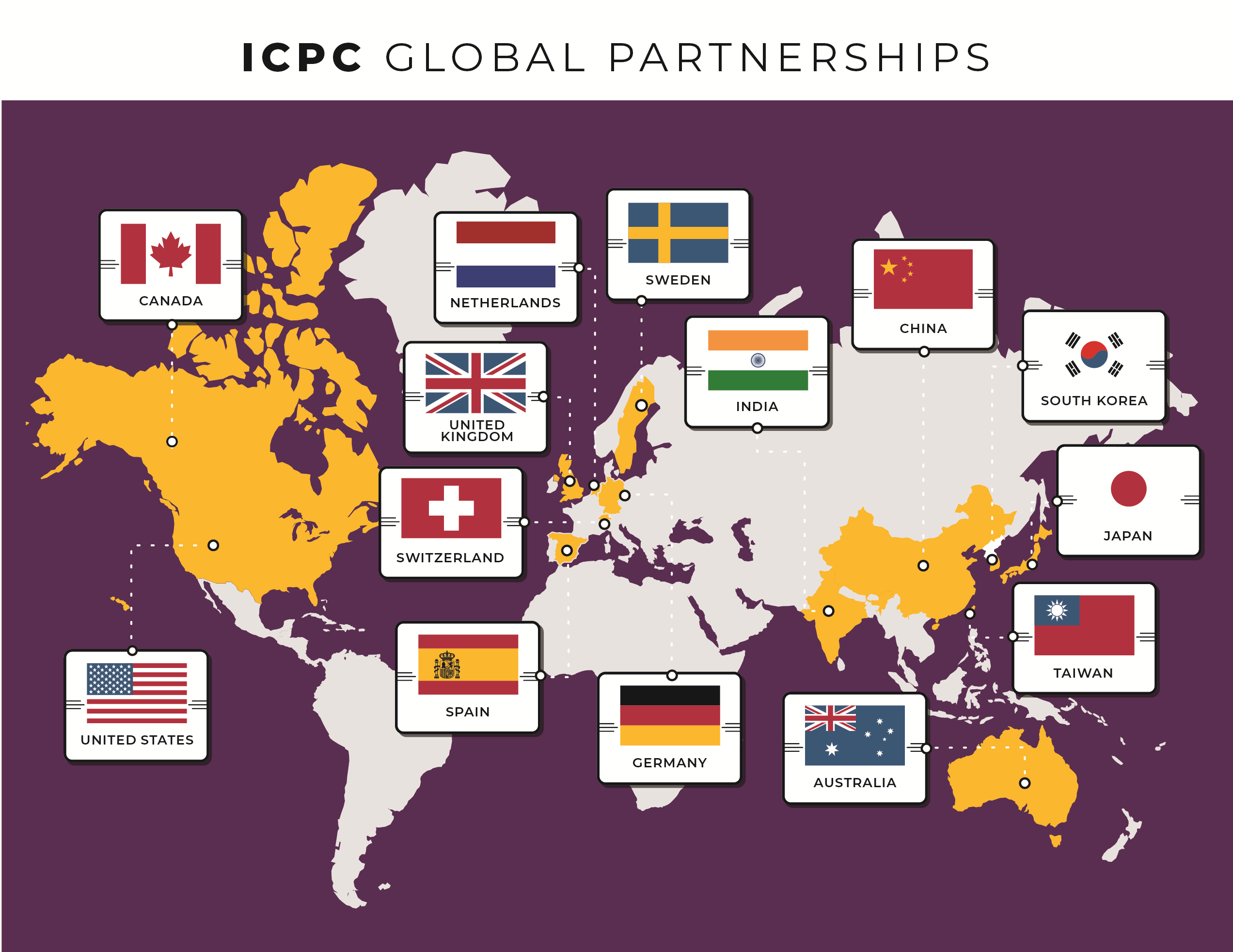 Current institutions include (alphabetical order):
AustraliaTeam: Macquarie University, Children's Medical Research Institute, Garvan Institute of Medical Research, and Bioplatforms Australia Ltd.Cancer focus: all cancer types, including sarcoma, colorectal cancer, melanoma, childhood cancers
Canada/GermanyTeam: McGill University, University of Victoria, University of British Columbia, and Leibniz Institute for Analytical SciencesCancer focus: lung cancer, breast cancer, colorectal cancer, melanoma, cancers in adolescents and young adults

ChinaTeam: Shanghai Institute of Materia Medica, Chinese Academy of Science, and Fudan UniversityCancer focus: liver cancer and other frequent cancer types in Chinese population
IndiaTeam: Indian Institute of Technology Bombay, and Tata Memorial CentreCancer focus: breast cancer, head & neck cancer, cervical cancer
JapanTeam: National Cancer Center JapanCancer focus: sarcoma
South KoreaTeam: Korea Institute of Science and TechnologyCancer focus: lung cancer (adenocarcinoma)Team: Korea UniversityCancer focus: gastric cancer, pancreatic ductal adenocarcinomaTeam: National Cancer Center, KoreaCancer focus: early onset breast cancer, cervical cancer, cholangiocarcinoma, gastric cancerTeam: Daegu Gyeongbuk Institute of Science and Technology, and Kyung Hee UniversityCancer focus: breast cancer, brain cancer
Spain
Team: Josep Carreras Leukaemia Research InstituteCancer focus: leukemia​
SwedenTeam: Lund UniversityCancer focus: melanoma
SwitzerlandTeam: ETH ZürichCancer focus: prostate cancer, melanoma
TaiwanTeam: Academia SinicaCancer focus: lung cancer, breast cancer​Team: Chang Gung UniversityCancer focus: oral squamous cell carcinoma, colorectal cancer
​The NetherlandsTeam: Amsterdam UMCCancer focus: colon, pancreatic, breast cancer
United KingdomTeam: University of Manchester and University of DundeeCancer focus: esophageal cancer, prostate cancer
United StatesTeam: NCI Clinical Proteomic Tumor Analysis ConsortiumCancer focus: (potentially) glioblastoma multiforme, lung adenocarcinoma, lung squamous cell carcinoma, pancreatic ductal adenocarcinoma, clear cell kidney carcinoma, cutaneous melanoma, head and neck squamous cell carcinoma, sarcomas, uterine corpus endometrial carcinoma, acute myeloid leukemia